Area Senior Living Community Helps Rally School Supplies for Children in Need
CUTLINES: GreenTree At Westwood recently co-organized and hosted Operation Backpack, a charitable initiative which set out to procure and deliver new backpacks filled with crucial school supplies to deserving, area children. 
COLUMBUS, Ind. [August 17, 2021] – Local senior living community GreenTree At Westwood (GreenTree) proudly donated nearly 100 new, supply-filled backpacks to the Bartholomew Consolidated School Foundation following the recent completion of a special, charitable initiative called "Operation Backpack."
In partnership with Journey North Care Management and Rotary Club, resident seniors and GreenTree team members called upon one another and members of the local community to donate new, unused school supplies, which were collected at the community in preparation for the upcoming 2021-2022 school year.
Through generous donations, 96 students in need from the local community will receive new bookbags and school supplies intended to better prepare them for learning and academic achievement this coming school year.
Operation Backpack concluded last month with resident seniors, area families and community partners gathering for a celebration at GreenTree. As part of the special event, children in attendance enjoyed a bounce house and refreshments, while all who donated received a free Kona Ice.
"We're extremely proud to say that the impact from Operation Backpack will be felt throughout our community," said Rachel Yancer, Senior Lifestyle Counselor, GreenTree At Westwood. "Backpacks and supplies raised as part of this project will be going to help children in need at 11, area elementary schools."
Located at 4895 Pine Ridge Drive in Columbus, GreenTree At Westwood provides Active Independent Senior Living in an amenity- and service-rich setting. The community is owned and operated by Florida-based Discovery Senior Living, whose national, multi-brand portfolio includes more than 70 communities in 15 states.
#  #  #
PHOTO: Superintendent Dr. Jim Roberts and Director of Elementary Instruction Dr. Laura Hack celebrate the results of Operation Backpack, posing among the 96 supply-filled backpacks which will be given to children in need by the Bartholomew Consolidated School Foundation.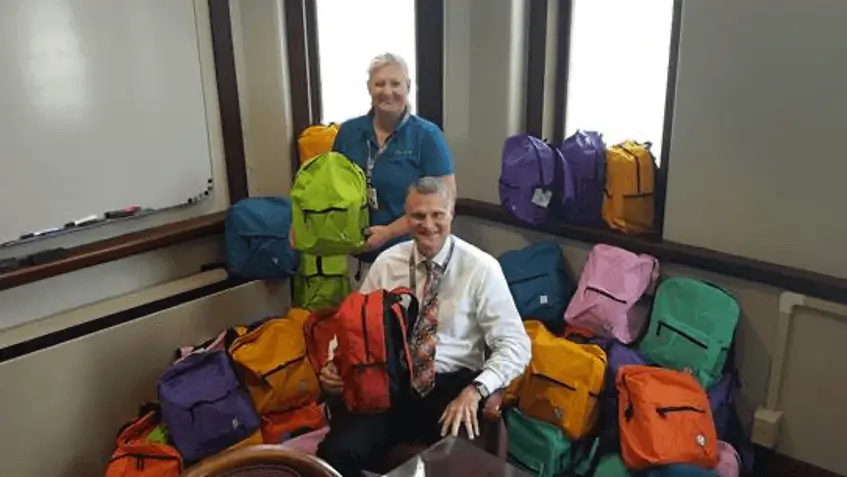 About Discovery Senior Living
Discovery Senior Living is a family of companies that includes Discovery Management Group, Morada Senior Living, Discovery Development Group, Discovery Design Concepts, Discovery Marketing Group, and Discovery At Home, a Medicare-certified home healthcare company. With almost three decades of experience, the award-winning management group has been developing, building, marketing, and operating upscale senior-living communities across the United States. By leveraging its innovative "Experiential Living" philosophy across a growing portfolio of almost 12,000 existing homes or homes under development, Discovery Senior Living is a recognized industry leader for lifestyle customization and, today, ranks among the 10 largest U.S. senior living operators and providers.
Media Inquiries:
Laura McDaniel, Regional Marketing Manager
LMcDaniel@DiscoveryMGT.com | 239.676.2869